Edible Switzerland:
a passion project
3 min read * 20 January 2022 by Jennifer Burke
Edible Switzerland, where food, flavour, & fun come together
Here is a little something I've started over the last three years. It started out a bit whimsically, but it is now shaping up to be a fun project and I wanted to share the story with you here.
In May 2019, somebody in an expat group in Facebook asked: "Where are all the foodies here? When I lived in Singapore, there was this amazing community of people who shared reviews & recommendations. It was a great place to ask questions."
I quickly made a Facebook group called: Foodies in Switzerland. "Voila!" I said. "Here you go!" And we grew a few hundred members in a week. In three months, we had more than 500 members. And as of January 2022, we are more than 3200.
I love this group. We're pretty active and engaged. We're international and diverse. One of my favourite conversation posts was when I asked to share where we were from using food. There are over 132 comments on that post.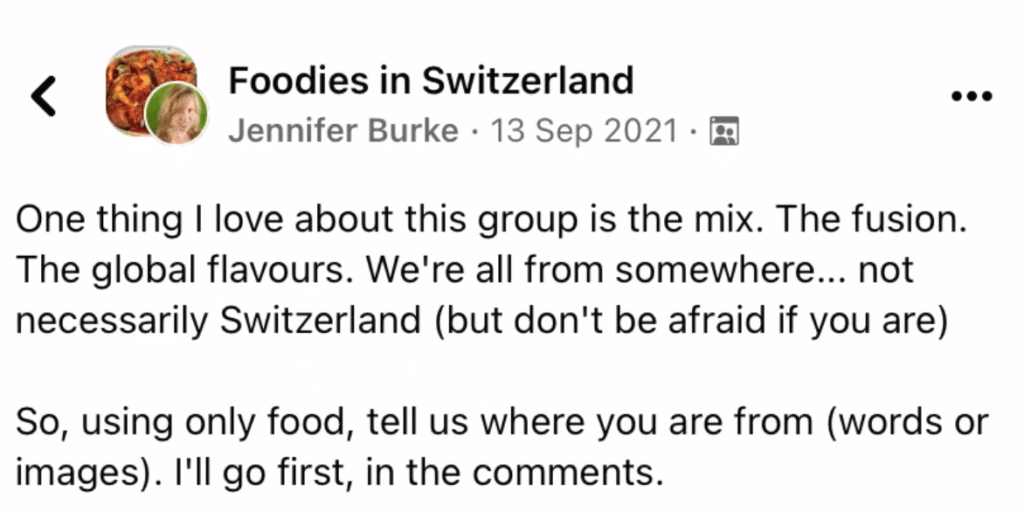 We are a diverse group who live in Switzerland (mainly) and we share our food. Good food. Bad food. Our opinion on food and other food products. We have, on occasion, shared how we organize our spices. Or our cookbook shelves. As an international group, we have questions about where to find our favourite foods in Switzerland. We have questions about where we can try authentic international cuisines. I just love it!
But I realized that a lot of the recommendations and questions were just getting lost in a Facebook feed. How findable are important recommendations or answers to questions in FaceBook?
I launched EdibleSwitzeland.com with the idea to harness this valuable, sharable information. But, what my community wanted more, were experiences. They want to get out. Meet other people. And meet the people who produce quality artisan Swiss foods and beverages.
So I created two foodies clubs. They are not your everyday clubs. They combine the foodie community, meetups & products & experiences.
Meet the Maker clubs for Foodies
Introducing our MEET THE MAKER clubs for foodies. Yes. They are clubs. Bi-monthly food & experience-of-the-month clubs. Not a regular subscription & certainly not a commitment. But you'll want to participate and you'll get to taste and discover new food & wines & spirits and experiences in Switzerland.
About the FOODIES WINE & SPIRITS CLUB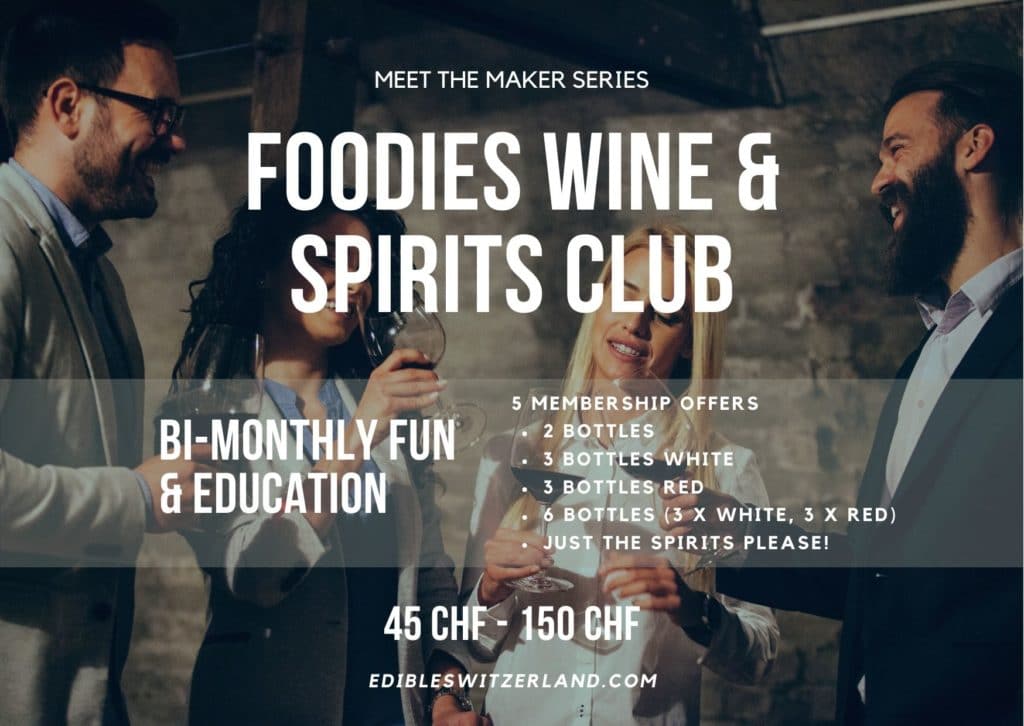 Designed for people who enjoy discovering new wines, wine experiences, and wine regions. Join this club if you want to learn more about wines unique to Switzerland, Swiss wine regions, and meet some amazing winegrowers and wine makers.
Every third shipment, we'll discover an artisan distiller instead of Swiss wines (adding a little spirit (quite literally) to the wine club!). Sometimes, we might even venture to surrounding countries.
We'll offer 5 options of membership in our Meet the maker Wine & Spirits club:
45 CHF / 2 bottles (one red, one white)
65 CHF / 3 bottles (white)
65 CHF / 3 bottles (red)
150 / 6 bottles (3 x white, 3 x red)
55 CHF every 4 shipments (just the spirits please)
Each shipment (every other month), members will have the option to participate in a virtual tasting with the wine maker or a guest sommelier. Additionally, there will be an option to travel to the wine producer with a group of foodies for a special in-person tasting experience. We'll learn about the region, the specific wines they create, & about the wine maker themselves.
Learn more about the club and join on the EdibleSwitzerland.com website–>
About the FOODIES GOODIES & COOKERY CLUB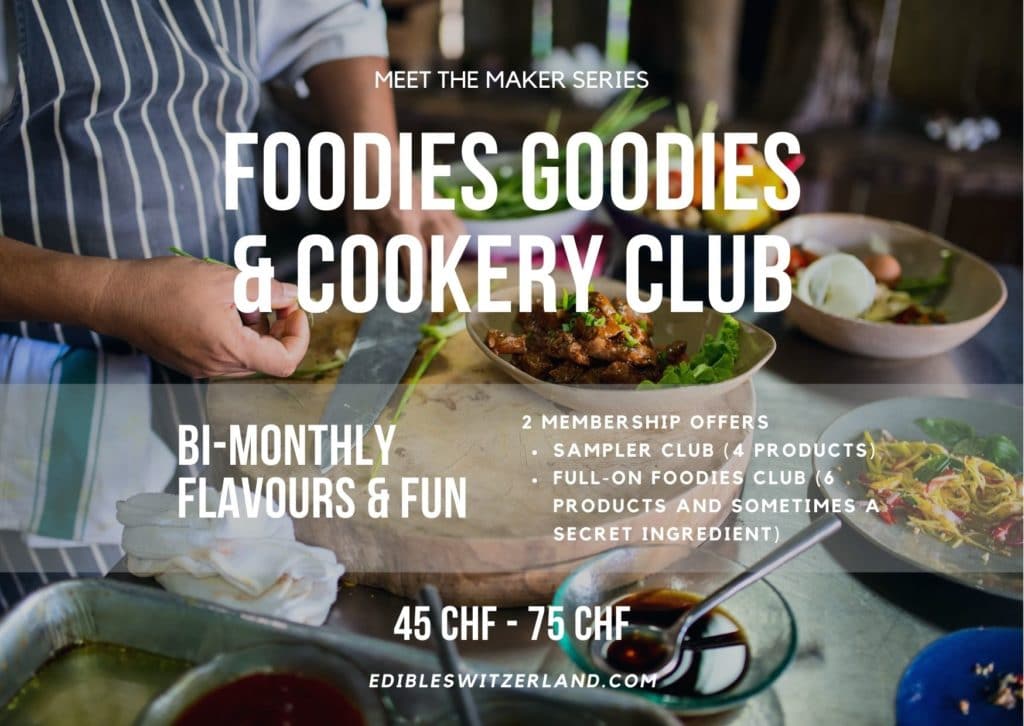 The Foodies meet the maker Goodies & Cookery club is a food-of-the-every-other-month club that helps you discover the best Swiss artisan food products and sometimes, the secret ingredients of some key local chefs.
Designed for people who enjoy discovering new food & learning what to do with it (via cooking classes, demos, workshops). Join this club if you want to learn more about regional products and artisan makers and well… I'm just going to put it out there, some damn good chefs.
We're talkin' the best of pickles, chutneys & Swiss cheese and where do you find the best viande séchée and other charcuteries for your fabulous apéros? What about some bio flour, grown and milled on the farm? What would you make with that?
Every two months, get stocked with artisanal goodies delivered to your door, complete with ideas of what you can do with them. Then, for those of us who can, we'll get together and make something with them. Sometimes, it could be with a fellow foodie. Sometimes, it could be a Michelin-star chef…you'll just have to see.
Because this is a month-to-month club, we're just going to keep it simple.
45 CHF / sampler of goodies (four products)
75 CHF / six delectable goodies (and sometimes a secret ingredient)
Each shipment, members will have the option to participate in a virtual or live tasting and discovery session with one of the artisan producers (it depends what is in the box). Plus, we'll host a special cooking class showcasing the products of the month.
Learn more about the club and join on the EdibleSwitzerland.com website–>
The key to success
I'm just launching our clubs starting in January 2022 and am collaborating with foodie members for some experiences and finding new ones for others. A few things I think will contribute to the success of this project are:
Involving members of my foodie community in creating and participating in new experiences.
Creating an agenda of unique and one-of-a-kind experiences.
Flexibility for the subscriptions
Showing up and delivering
I'm sure I have my work cut out for me. But I can't wait to get going. It's a big job, so things are moving slowly. But we are moving. And I can't wait to share the results.